November 4-6, 2022. Richmond, Virginia.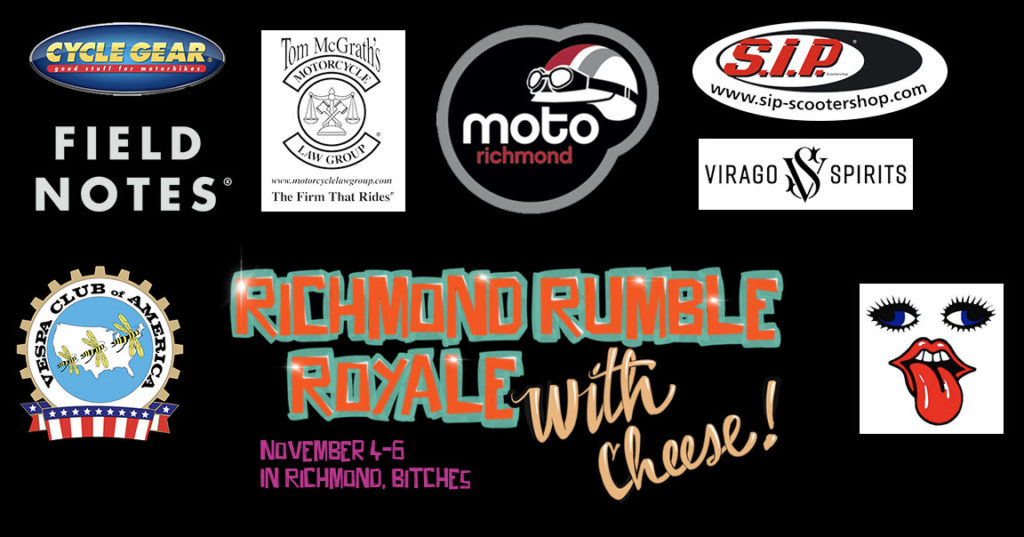 Come one, come all! Pre-registration for the Rumble is now CLOSED, but you can still catch us on site at the rally to register yourself and join in the mayhem.
---
ITINERARY
Friday, November 4
7PM-ish: Registration/Meet & Greet/TONS OF PIZZA (yes, this is a THREE MEAL RALLY) at Main Line Brewery (1603 Ownby Ln)
9PM-ish: Night ride to Fuzzy Cactus (221 W. Brookland Park Blvd.) for dance party w/ DJ Tracy Wilson. (*BIG NOTE: Bring your wrestling card from your rally bag for a chance to win $50 off your bar tab!*)
Saturday, November 5
10AM: Breakfast at Moto Richmond and Scoot Richmond (6000 Midlothian Turnpike) brought to you by Chef Ed Willeman
11AM: Long ride led by Kevin Jiannotti
12:15PM-ish: Local townie tour for fast scooters led by Amanda Allgood
12:15PM-ish: Local townie tour (50cc-friendly) led by Charlie Mas
2PM: Lunch from Proper Pie Co. back at Moto Richmond (plenty for our vegetarian and vegan friends!)
3PM: Richmond Rumble Royale Smackdown at Moto Richmond!
5PM: Siesta, dinner, tattooing, etc.
8PM-ish: Awards, raffle, party at Black Iris Gallery (321 W. Broad St.) (*BIG NOTE: This is maybe a 10 minute walk from Holiday Inn Express, the rally hotel*)
Sunday, November 7
10AM: Hangovers & brunch at Bar Solita (123 W. Broad St.), again very close to rally hotel
---
We welcome all manner of two-wheeled motorized fun machine – sport bikes, cruisers, mopeds.. whatever.
Many of the rally's activities will take place at our home base, Moto Richmond …
…and around our rally hotel, Holiday Inn Express Downtown: